I've been a bit unmotivated with the guitar making of late. Essentially because I have reached a bit of a blocker in the build process. You see, my daughter created a logo for me that I am putting on the heads of my guitars.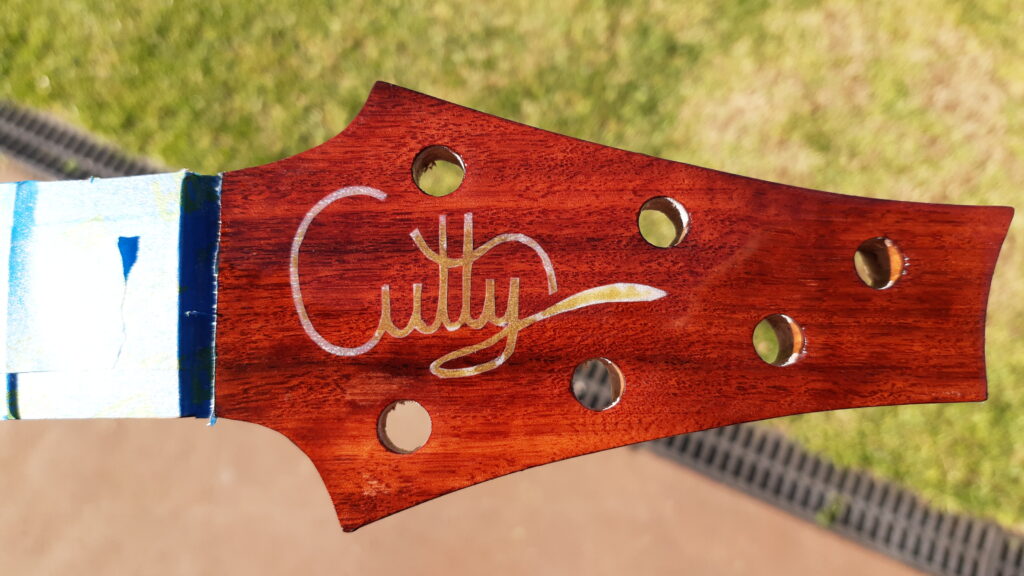 The one I put on my last build (Acoustic #4) was a bit dodgy. Basically I printed it on my inkjet printer onto sticky backed paper then carefully cut it out and stuck it onto the head plate. That was fine until the lacquer and sanding process leached some of the colour out of it as you can see.
So, I decided I would buy a cheap CNC machine to carve out the head plate logo and fill it with abalone shell. I've been waiting to buy it for a while, a) till I needed it and b) till I had the readies to buy it.
So now I have two necks on the go ready for the head plate. As a result, I ordered a CNC machine three weeks ago on EBay. I got a text last Sunday saying it was coming which gave me great excitement. When I say the box it came in I was immediately worried – it didn't look right. And I was correct to be worried. When I opened it up, instead of a CNC, it contained two extra strong magnets and two lengths of rope. WTF!
Consequently, I've spent the last week trying to explain to someone who clearly has not spent a lot of time speaking the English language, that there's a big difference between the two. That finally resulted in reporting it to EBay and hopefully I get a refund later this week and go buy the thing from someone else!