So despite my lack of motivation, I did make some progress this week.
I thought I had finished making jigs, having completed acoustic number 4 entirely in my home workshop…apparently not.
Number 4 had a dovetail joint for the neck, for which I bought a template from Stew Mac and build my own device for using it. Nothing wrong with the jig or template, but I swear I'm not doing another dovetail joint, they are just too difficult!
So for this build, I'm doing straight mortise and tenon joint with bolt on neck.
But, I needed the template to cut the mortise and tenon. Rather than spend more bucks to get the Stew Mac one, I decided to make my own out of Perspex. I think it's turned out reasonably well. My only concern is that the Perspex is a lot thinner than the other template, but I can use this one to cut a thicker piece if needed. The proof will be when it comes time to use it in a couple of weeks.
Also the week, I thicknessed some head plates from Jarrah, ready for the day that my CNC machine finally arrives. Glad I bought a drum sander a few years back as it's probably the best money I've spent on tools getting myself set up.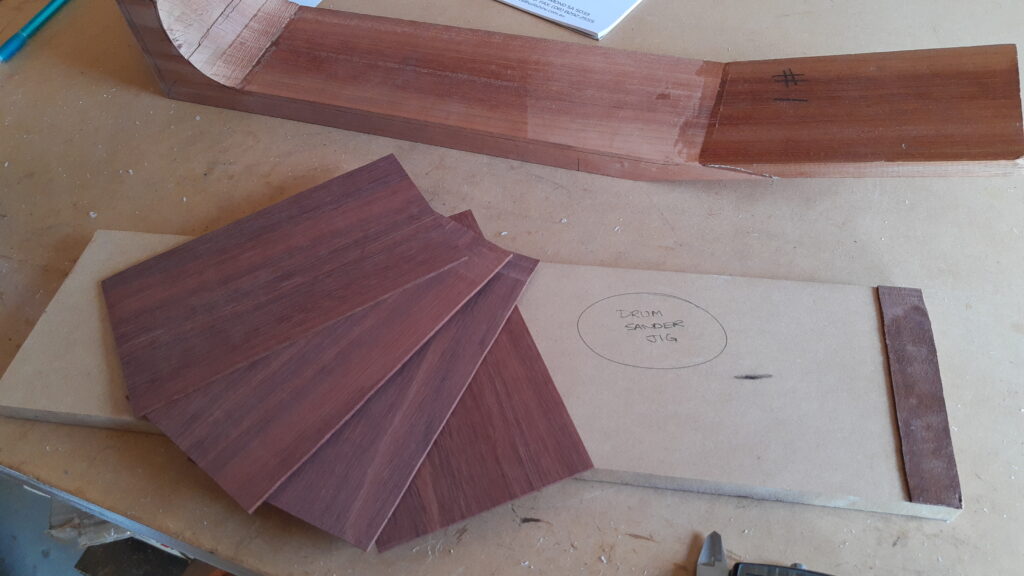 Last thing I did this weekend was orbital sand the two bodies ready for pore filling. I bought some really good sandpaper (Mirka Abranet from Mallee Agencies) that doesn't clog up or wear out and I managed to do both bodies with one piece of each grit (180, 240, 320, 400) which was amazing!